Polygood anti-glare treatment represent ways to improve or optimize readability of a display image or set of characters. Readability is essential for the optimum performance of any dispaly, and it makes the visual information to be read clearly, quickly, and comfortably, it minimal eyestrain at the same time.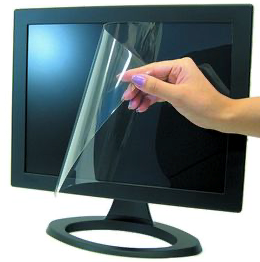 Anti-glare is a type of optical coating consisting of an extremely thin layer you can apply on polycarbonate, PMMA and acrylic sheets/films, etc. These materials change the consistency of reflection and make it appear blurry to the eye. A polycarbonate with anti-glare coating would appear frosted or matte, which helps reduce the glare effect of direct sunlight or natural light indoors. Non-glare polycarbonate sheet offers the same high impact strength, heat resistance and light transmission qualities of traditional polycarbonate with the added bonus of antiglare properties.
Polygood plastic Anti-glare Sheet/Film features other technologies such as UV resistant, chemical resistant and abrasion resistant coating. Thus, the anti-glare substrate will remain intact even after several washings, besides being suitable for outdoor applications.
Polygood plastic non glare sheets are widely used in outdoor TV/LCD screens, monitor screens, screen protectors, retail displays, art exhibitions, picture framing, advertising and other forms of displays. Sheet thickness available from (0.125mm to 12mm), sizes and color can be customized. Ithe sheets are easy to cut, fabricate with CNC machines or print for different customized display applications.
If you are looking for an anti-glare /anti-scratch /anti-UV polycarbonate or acrylic sheets to substitute for your normal plastic sheets, please send us an enquiry. Request a quick quote and we will answer you at our first time.
High-quality Anti Glare Polycarbonate Sheet
Advantages of anti-glare polycarbonate sheet
2.Exceptional impact resistance
3.UV resistance (no damage or yellowing due to UV)
4.Eliminates all unwanted glare
5. protective film on both sides
6.Protect screen from rain, dirt, heat, theft or arson
Benefits of Anti Glare Polycarbonate Sheets
Polycarbonate sheets with anti-glare coating have a hoard of advantages:
•Improves clarity of displayed images
•Improves comfort by reducing eye strain
•Improves image resolution, colour contrast, and display sharpness.
•Does not fade or turn yellow due to UV resistance.
•Resistant to high impacts, scratches, graffiti, and chemicals.
•Highly-durable with weather resistance, hence apt for outdoor applications.
•Easy maintenance.
Applications of Anti Glare Polycarbonate Sheets/Films
Polycarbonate sheets are very versatile due to their high impact resistance and glass-like optical clarity. Adding an anti-glare coating to the already sturdy polycarbonate sheets or film makes them a perfect choice for applications like:
2.Art exhibitions
3.Outdoor TV/LCD screens
4.Signage
5.POP displays
6.Retail posters
7.Picture framing
8.PC/Laptop screens
9.Display cases and cabinets
10.Screen guards
11.Display/control panels in machines
12.Capacitive/ resistive & touchscreens
13.Automobile displays
Because they are virtually unbreakable, anti glare polycarbonate sheets and films are widely used in sectors like agriculture, aviation, military, security, naval, marine, heavy industries, etc.
Why choose us?
An ISO9001:2008 certified company, polygood plastic is committed to providing high-quality anti glare polycarbonate sheets, guaranteed to last for ten years. Our well-equipped and technologically-adept CNC processing facility ensures precise fabrication of all polycarbonate products. We have a 24×7 customer support team for quick consultations and queries.
Contact us today to buy top-grade anti glare polycarbonate sheets or films.