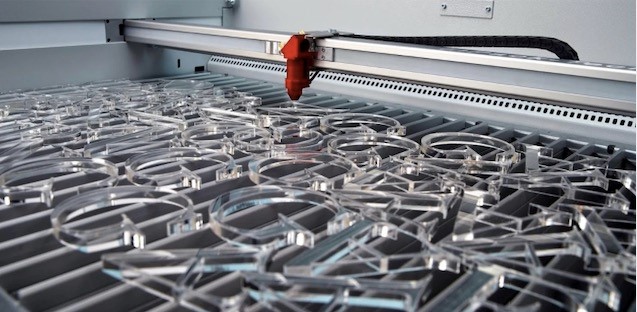 Depending on the type of acrylic you're working with, the laser can produce a smooth, flame-polished edge when laser cut, and it can also produce a bright, frosty white engraving when laser engraved.
easily laser cut acrylic to have a smooth flame-polished edge
Acrylic (PMMA) is ideal for laser processing projects such as illuminated advertisements, acrylic signs, point of sales displays and more.
There are actually two types of acrylics suitable for use with the laser: cast and extruded.
Cast acrylic sheets are made from a liquid acrylic that is poured into molds that can be set into various shapes and sizes. This is the type of acrylic used for most of the awards you see on the market. Cast acrylic is ideal for engraving because it turns a frosty white color when engraved. Cast acrylic can be cut with a laser, but it will not result in flame-polished edges. This acrylic material is better suited for engraving.
The other type of acrylic is known as extruded acrylic, which is a very popular cutting material. Extruded acrylic is formed through a higher-volume manufacturing technique, so it is typically less expensive than cast, and it reacts very differently with the laser beam. Extruded acrylic will cut cleanly and smoothly and will have a flame-polished edge when laser cut. But when it is engraved, instead of a frosted look you will have a clear engraving.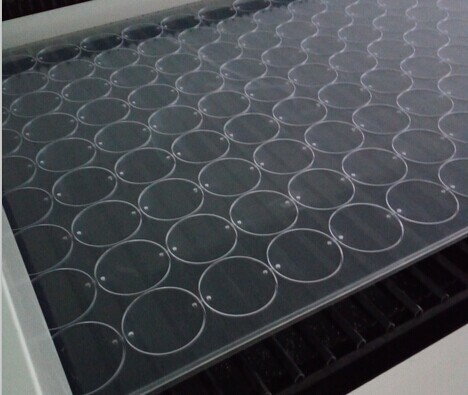 Acrylic sheets typically come with a protective adhesive film on the front and back to prevent it from getting scratched. We recommend removing the protective adhesive paper from the back of the acrylic before engraving, and leaving the protective cover layer on the front to prevent scratching while handling the material. Don't forget to reverse or mirror your artwork before sending the job to the laser since you'll be engraving the back side.
Acrylic is a durable and practical material for laser processing. The variety of colors and textures make this material ideal for all kinds of things:
11.Point of purchase signage
12.Directional signage
13.Earrings/pendants/buttons
14.Containers/boxes
15.Cake/cupcake toppers
16.Custom awards
17.Holiday ornaments
18.And much more!